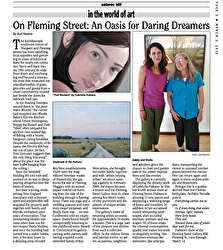 By Bud Navero for Solares Hill Sunday, March 3, 2013
The kaleidoscopic southwest corner of Margaret and Fleming Sts. Has been satisfying local
appetites and garnering its share of folklorical fame for nearly two centuries. Since well back
into the 19th Century, its wide front doors and overhanging roof housed a mercantile store that
measured out wheelbarrowfuls of grain, .groceries, and gossip from a chute conveniently located
just beside the doors for sidewalk load-ups.
As the Roaring Twenties wound down in "the poor man's Riviera," the corner had morphed
into "Rhoda Baker's Electric Kitchen" where Ernest Hemingway, "Sloppy Joe" Russell and their
"Mob" often prepared for a day of rum soaked fishing with a hearty hangover-curing breakfast.
Despite the modernity of its name, the Electric Kitchen ran out of juice. (In fact, Tom Corcoran
suggests that only thing "electrical" about the place was the bare bulbs hanging from the ceiling).
Soon, the heralded building fell into ruin on its way to disappearing into the mists of history.
Just then, a young enterprising New England transplant with a pioneer spirit and irrepressible
will. acquired the property and, together with family and friends embarked upon years of
renovation. That enterprising idealist was none other than our former mayor Sheila Mullins,
and once the building became a viable habitation, it became home to a dizzying array of outré
Key West establishments. There were the magnificent Venetian masks of Maskerville, the gay
bookstore Flaming Maggie's with its surreal papier-mâché cat bursting from the side of the
building through a flaming hoop. There was yoga and a wedding planner and some truly risqué
proposals, and finally there was…no one. Confronted with an empty space, Sheila found herself
unexpectedly returning to her childhood roots. Raised in Connecticut by gallery owning artist
parents and having acquired a new extended family of Key West artists, she brought her entire
family together and with "artists helping artists" set about opening a gallery. In February of 2009
the mayor became a maven and the Fleming Street Gallery took its place among Key West's
roster of elite purveyors and displayers of unique artistic expressions. The Gallery's roster
of returning artists accounts for approximately ten shows a season. This is a large part of the
pleasure one derives from such a collective effort. Thus, as visions, forms, and palettes evolve,
we as patrons, neighbors, and admirers are given the chance to chart and participate in the artists'
explorations and discoveries.
The Gallery is currently displaying the dreamy work of Gabriella Fiabane. In this, her fourth
annual show at Fleming Street, Ms. Fiabane is showing fifteen new pieces and displaying
a widening range of forms and tonalities. In addition to her acclaimed muted whispering
landscapes, she's included interiors, portraits, and seascapes. All of them retain the ethereal
contemplative quality that makes her work so singular and inviting. Her stillnesses resonate
like memories and anticipations, transporting the viewer to unstated interior places beyond the
canvas. One can return again and again to these endless arrivals and departures.
Perhaps this is a quality derived from Chilean birthplace. As Neruda puts it:
Everything carries me to you
As if everything that exists
Aromas, light, metals,
Were little boats
That sail
Toward those isles of yours that wait for me
Ms. Fiabane's show is at the Fleming Street Gallery through March 14th.
Comment on or Share this Article →
Excerpt from the press release for my recent solo show at Fleming Street Gallery in Key West (March 2013). Back in the studio working for my July 5th show at Old Spouter Gallery in Nantucket.
...The wonderful elegance and subtle intensity which characterize her work is beautifully evident in this latest collection.
There is a poetic economy taking place in Fiabane's communication with the viewer. Her new work leaves as much unsaid as is spoken. The distinction between interior and exterior life; ours, yours, mine, the world's-- is once again called into question under Fiabane's observant artistic eye. This show challenges our idea of "inside and outside" because the changing points of view available to the viewer impose few limits.
In this show, as a contrast to our daily dose of tropical heat, light, and color, we are given Fiabane's subtle palette, a reflection of her summers spent in cooler northern climates. Looking at "Daybreak at the Pasture", it is easy to feel oneself standing on a road in the soft morning light of a northern sunrise.
Her artistic vision tantalizes us with the hint of something taking place just past the limits of our senses as defined in the world each painting creates. These paintings seem to bring into being a time and place that may, or may not exist, and yet one which feels so familiar.
There is a balance struck between an apparent calm and an undercurrent of intensity in Fiabane's new work. In this world of light and breezes streaming through windows and curtains, of sea and sky, there is a strong sense of spiritual energy. Fiabane has achieved a sense of precision and confidence in these new works...
Comment on or Share this Article →